Assorted hors d'oeuvres to share.
Shrimps, smoked salmon, spanakopita,
tzatziki, taramosalata, Greek olives,
feta cheese, pita bread.
With the purchase
of a main dish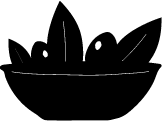 Garlic shrimp au gratin, Snails au gratin or Spanakopita
Cannot be combined with any other promotion.
Not valid on holidays.
The Grill, Fish & seafood, Sharing platters and Surf 'n turf duos are served with house salad, potatoes and rice.

Au gratin. Includes house salad.
Bread available on request.
Plus applicable taxes. An amount of $5 will be added to your bill for sharing a main dish.